Lamino by Swedese
The story of Lamino
A life's work and a symbol of a constant search for simplicity.
Today, Lamino is an iconic piece of furniture and our constant bestseller. Yngve Ekström's armchair Lamino did not come about by chance. Rather, it is a life's work and a symbol of Yngve's constant search for simplicity. In that pursuit, both predecessors and successors to Lamino have existed. The pursue of the perfect curve was ongoing and Lamino's popularity is proof that all the effort and prototyping paid off.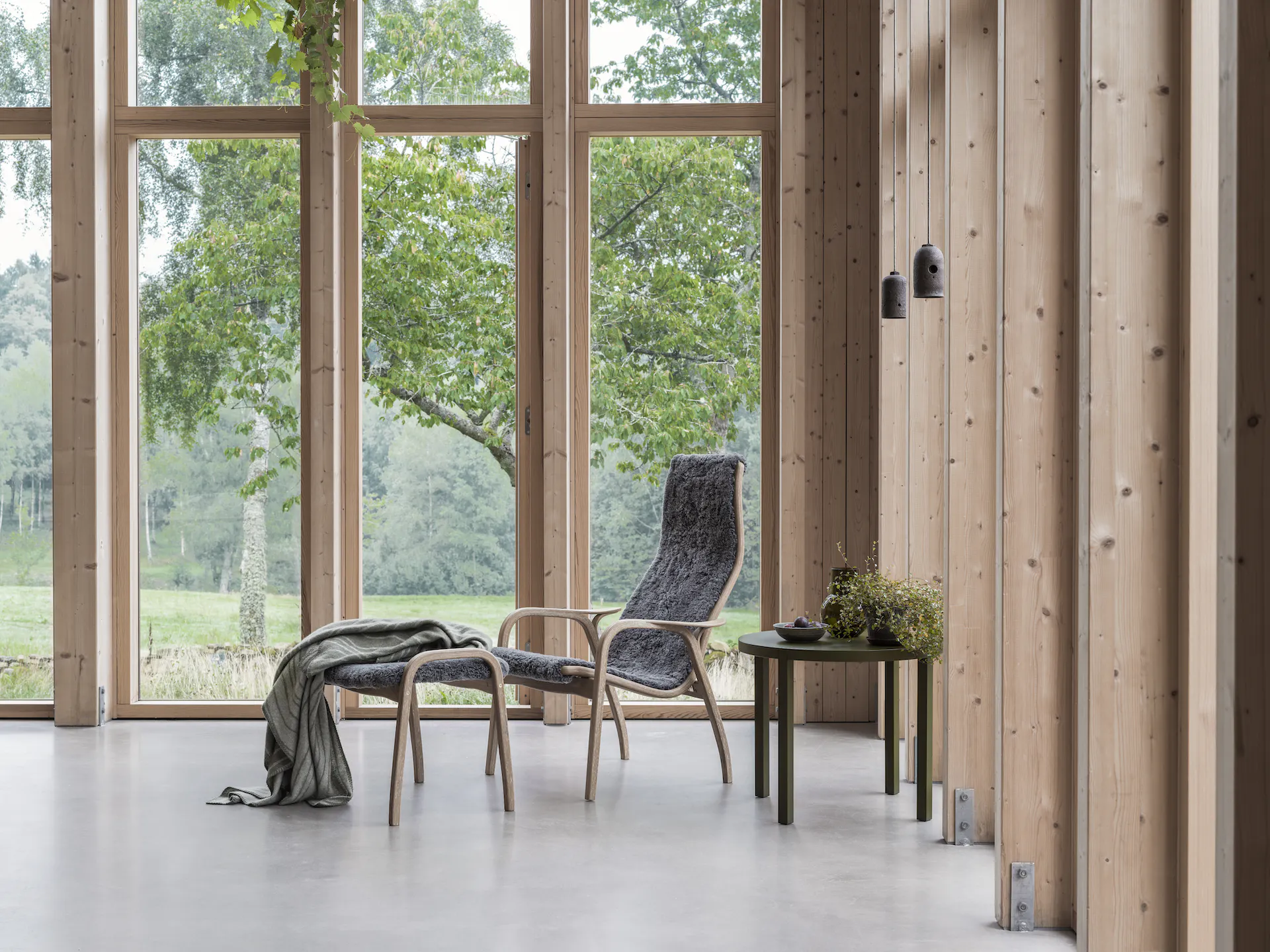 1945
The first armchairs from Yngve's pen
Anders and Per were Yngve's first two armchairs, named after the sons of a friend. They were manufactured in the attic above a carpentry workshop in Vaggeryd and sold by Hemslöjden in Jönköping. The seat was made of saddle girth and the base made of turned sticks as in a stick chair. The development of the characteristic back curve had begun.
Armchair Anders, 1945

Armchair Per, 1945
1953
Kurva and Båge
Yngve continued to develop his idea of the perfect curve. In 1953, Kurva och Båge (curve and bow) was launched at the furniture fair in Gothenburg. Curve is similar to Lamino, with some important differences. The armrests and the width of the back are examples of details that set them apart. Båge is essentially the same armchair but with a lower back. The armchairs were both sold and advertised in the press, but Yngve was still not completely satisfied. The development of Kurva continued, the shape was adjusted and together Yngve and his brother Jerker prototyped solutions to further improve durability and assembly.
Kurva with a high back and Båge with low back.

Rattan Kurva from the 1950s.
1956
Lamino
Yngve and Jerker Ekström arrived at the furniture fair in 1956 with a well-designed chair, equally well thought out in terms of production technology, to be able to keep the price down. They chose to present Lamino to the world with a natural-colored saddle leather upholstery. Reactions were very positive and orders poured in.
"I designed Lamino with the human body as a starting point, making it as pleasant to look at as to sit in"
Voices about Lamino
Since it was introduced in 1956, Lamino has moved into a large number of homes, and it still does. For furniture designers and interior design enthusiasts, it is an icon to be reckoned with, and we often see proof that people have both a professional and a personal relationship with it.
"Electing Lamino Furniture of the Century was, in my opinion, a wise choice. The chair is a piece of furniture that would actually fit like a glove with the IKEA company policy. Every piece of furniture we make must have three things, it must be suitable for production, be functional and have a good shape. And the Lamino chair has all of that."
"Lamino is like a key, an entrance into time, and to the designer Yngve Ekström. Lamino was never institutionalized, that is, it was not found in public settings such as hospital waiting rooms and corporate lobbies. Therefore, it became synonymous with home environment and coziness. In addition, Lamino is affordable, it is Swedish and it proved to be trendy even fifty years after its debut. Now, a few years later, Lamino appears as a very well-known, clear and visible part of Swedish modernism, a symbol."
Form historian and curator at the Nationalmuseum in Stockholm
"The Lamino chair is typical of its time, i.e. the middle of the last century. It reflects a design language that existed during the 40s and 50s, when bentwood was widely used. You could probably claim that after Yngve Ekström and Bruno Mathsson there hasn't been much innovation in bentwood. A fundamental component of the work as a furniture designer is craftsmanship, and you'll find that in Lamino. Behind the image of a neat curve you can see something else, the traces of people who knew how to work with wood."
Furniture designer, Vaxholm
1956
Laminett
Yngve liked to make the same armchair with both a high and a low back. The design of Laminett is the same as that of Lamino, only with a lower back that gives it a slightly different expression.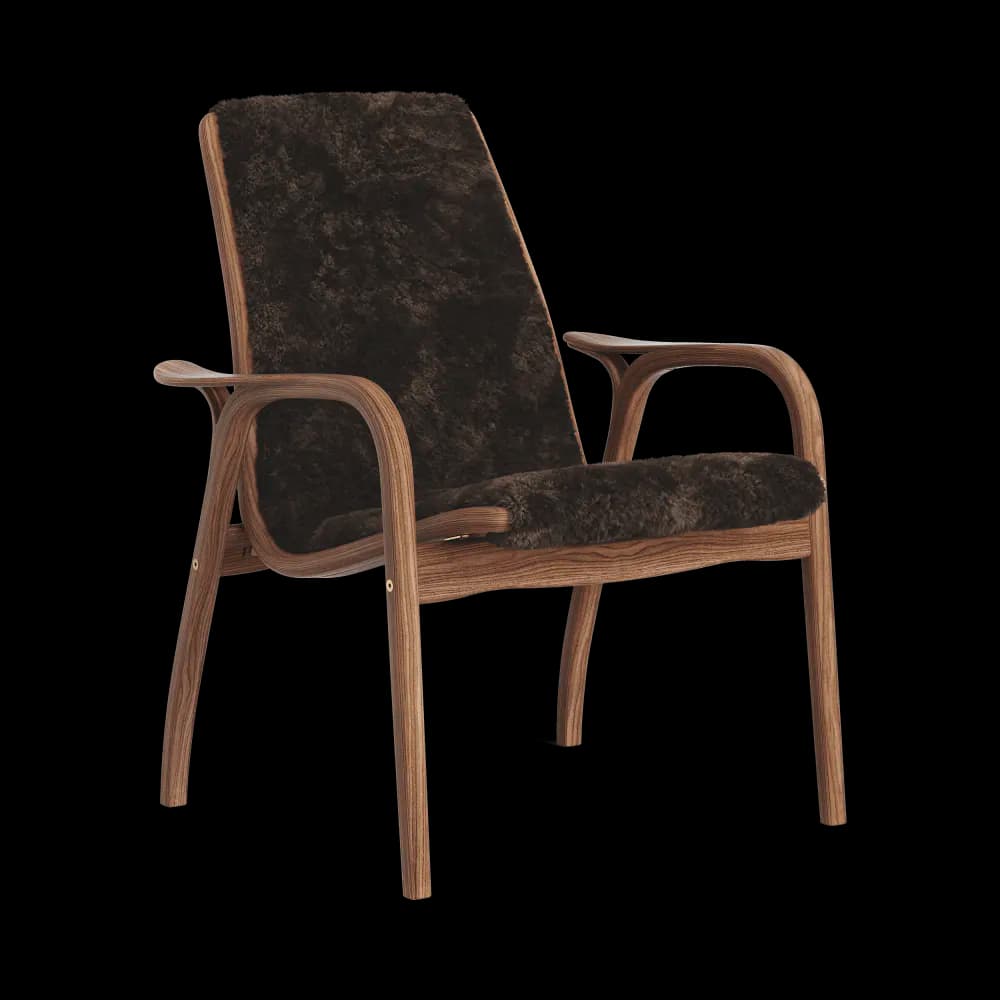 A visit to the factory
Follow a Lamino armchair taking shape. The process is a craft in every step, and requires great skill and accuracy.
1980
Primo
Primo is one of several successors that clearly took inspiration from Lamino. It is still part of our range, both with a high and a low back.
1980s
Melano and Lamello
Yngve continued to experiment with the curve which occupied him for a long time. Melano and Lamello bear clear traces of 80s aesthetics; at the same time, the kinship with Lamino is easily identified.
1999
Furniture of the century
In 1999, Swedish interior magazine Sköna hem asked its readers to vote for the furniture of the century. Lamino was named the winner and many chose to share personal memories and feelings connected to the popular armchair.
Lamino Edition
Lamino is always available in a range of different designs in the standard range. In addition, we sometimes launch our most popular armchair as limited Lamino Editions. It has been done to draw attention to special occasions in our history, but also as various collaborations making temporary visits to our assortment.
Lamino Edition 2022 – Homage to the city

Lamino by Nudie Jeans Co

Lamino X Lab La Bla: Shape-shifters

Lamino 60:th anniversary

Lamino X Konstfack

Lamino honey – Swedese 75:th anniversary
Sven Lundh, owner of Källemo, Värnamo
The armchair Lamino became the final summary of Yngve Ekström's studies around sitting. With Lamino, he achieved a piece of furniture that looked organically molded, with a leg stand and seat that became a unit. Clad in sheepskin, it was given an inviting and friendly expression. Yngve, who was poetically inclined, was careful to give his models names that also expressed the character of the piece. The name and the furniture belong together and that has contributed to making Lamino valid for so long.
Mårten Claesson, architect in the design company Claesson Koivisto Rune, Stockholm
My first memory of Lamino comes from my childhood home on Lidingö. The armchair has a nice late modernist style. It has a soul, and that is unusual. Lamino is, quite possibly, the finest Swedish piece of furniture made in modern times. It is somehow perfected as a chair, while at the same time being sculptural. It is simply not possible to criticize it on artistic grounds. It is a cultural and commercial success at the same time.
Sources
The main sources have been archival material at Swedese in Vaggeryd.
Image sources: Swedese, Yngve Ekström, Toni Gustavsson.
Literature: Ekström, Brita-Lena. (2007). På spaning efter Lamino. Om möbelformgivaren Yngve Ekström.
Discover Lamino and friends
Lamino is an example of Yngve Ekström's timeless design, from 1956.